If you're a Classroom Plan subscriber or higher, you can upload your own images and videos (in the form of animated GIFs) to display during your Bingo Game. The uploaded image will display on every participant's Participant View all throughout the live game.
By uploading your own images in a Bingo Game under the Quiz Mode, you can ask your players questions like, "What month was this person named Employee of the Month?" or "Which sibling is this at three years old?" As the host, you can then call the corresponding square that your participants must locate on their cards.
Additionally, you may also use this function to upload additional sponsor logos or images to your Experiences for other purposes.
Uploading Your Own Image
To upload your own image, first navigate to the Experience Dashboard, then the blue Bingo Setup tab. Next, head over to the Game Media section located on the right side of the page. Finally, click on the Upload Image button with a camera icon as highlighted below.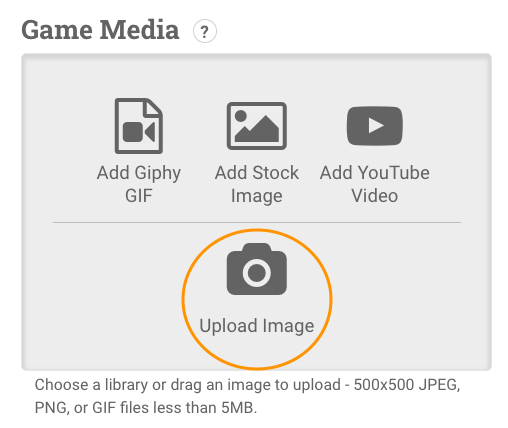 Choosing and Cropping an Uploaded Image
Once you click on the camera icon, select the Upload tab located at the top of the blue module. By default, clicking on the Upload tab will automatically prompt you to select an image file from your computer. Alternatively, you can manually click on the purple Choose Image tab to select an image from your computer.
After uploading, you may choose to crop the image. These images will be shown in a 1:1 square aspect ratio. So the more square your image is and/or the more square you crop it, the more it will display accurately on the Participant View. Click on the green Save Image button to save and upload your image after optionally cropping it.
Viewing Your Uploaded Image on the Participant View
Your image will now be shown on every participant's mobile device above their bingo card on the Participant View.
Bingo Game Media on the Participant View
Removing an Uploaded Image from a Bingo Game
If you wish to change an uploaded image or no longer want to have an image as the Game Media, simply remove it by clicking on the red Delete button with the trash icon next to the uploaded image in the Game Media box.
Uploading Animated GIFs as Videos
Looping animated GIF files may be uploaded to a Bingo Game, too. This allows a variety of animated memes and short videos to be used for your Bingo Game. For instance, you can upload an animated GIF like this:
Animated GIFs will animate in a loop on both the Presentation View and the Participant View.
More Helpful Articles: