The Game Notes feature for Bingo Experiences allows you to share additional information about your bingo squares during your Experience. Using our rich-text header, you can add headers, paragraphs, hyperlinks, lists and image content to display at any time during your live Experience.
Examples of Game Notes
Game Notes can be used to:
Add fun content like funny images or text that enhances your Bingo Experience
Add private notes just for the host -

Game Notes

don't have to be displayed to your crowd
Add "content cards" that share any information you want your crowd to know such as when the next bingo game will be, what the prize is, or any additional information you want to share!
Adding a Game Note
To add a Game Note, start on the Experience Dashboard under the blue Bingo Setup tab and scroll down to the Game Notes section on the lower right.
The Bingo Setup tab on the Experience Dashboard
In this example, we'll be editing a Classic Bingo game with traditional letters and numerical values. Let's say we want to give our players a brief history lesson on the game of Bingo. This additional content can be added to the Game Notes editor. After adding the text, the editor automatically saves the input.
Adding Headers Using Text Size Options
Our rich-text HTML text editor allows you to add different formats to separate sections within your Game Note. For example, you can use Header 1 to add the largest style text header, while you can use the Paragraph style to add regular-sized paragraph text. The following pictures illustrate how to add a header using Header 1 for the main title and Header 2 for a subtitle using the Game Notes feature.
| | |
| --- | --- |
| Header 1 | Header 2 |
Next, we'll add a body of text using the Paragraph text style, which is set as the default text size.
| | |
| --- | --- |
| Paragraph | Examples of Previous Text Formats |
Adding an Image
To add an image to a Game Note, you must simply copy and paste your desired image's URL. You can even add an additional description or custom width size for the picture. Since our picture was a little bigger than we'd prefer, we'll set its custom width to 300 px.
Once you're ready to add the image, press the green Confirm button to add it to the Game Note.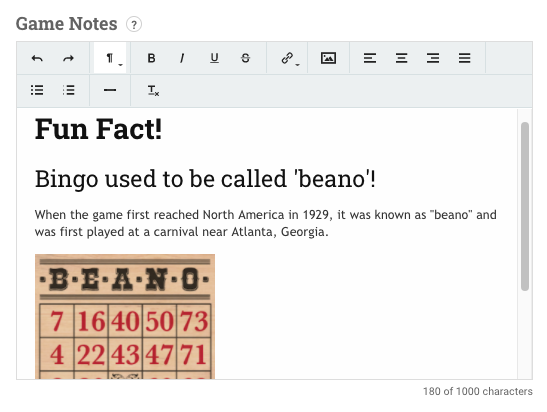 You should now see your added image, along with any other text or content you've already added to the Game Note box.
Additional Game Note Formatting
Bold, Italicize, and Strikethrough Text
You can even bold, italicize, underline, or s̶t̶r̶i̶k̶e̶t̶h̶r̶o̶u̶g̶h̶ your Game Note text, You can locate these functions on the first row of the toolbar, right next to the ¶ icon. Simply highlight the text you'd like to bold, italicize, or strikethrough then click on the corresponding icon.
Insert Links
You can insert links to websites for your participants to directly click on. First, select the Insert Link button with a chain icon, then click on Insert Link from the dropdown selection.
A dialog will open up and prompt you to fill out the following basic information:
URL - This is the URL for the website you'd like to direct your participants to if they click or touch the link.
Text - This will be the actual text your participants will see on the Game Note.
Title - (Optional) This will be the text your participants will see while hovering over the link.
Target - (Optional) This specifies where to open up the link such as in a new browser window. You can type in _blank to set the link to open in a new tab. By default, any added link will automatically open in the same tab.
If you've filled out the first two fields (URL and Text), your link will work properly. The last two text fields are more advanced functions that you are not required to configure for a link to work on the Game Notes.
Text Alignment
The next series of icons are text alignment options you can use to change the position of your text within the Game Note.
By default, the text is usually set to be left-aligned. However, you can also choose from the following options:
Left Aligned (default)
Centered
Right Aligned
Justified
Unordered List and Ordered List
These next two icons allow you to insert bullet points for an unordered list or you can even insert a numbered list with numbers starting from 1.
If you have general information and would like to separate your text into plain bullet points, then the unordered list would work well for you. On the other hand, if you'd like to explain a process using numbered steps, then the ordered list would be the way to go.
Simply click on either the Underordered List or Numbered List icon and begin typing. Use the Return key to add a new entry to the list.
| | |
| --- | --- |
| Example of an unordered list | Example of an ordered list |
Insert Horizontal Ruler
The next icon with a horizontal line allows you to insert a line into your Game Note, which you can use to divide sections of your text such as dividing a title from the body of text. You can find this option on the second row of the Game Note toolbar and right next to the Text Alignment icons.
An example of a horizontal line inserted into the Game Note
Displaying Game Notes
When we're ready to display the Game Notes, we can trigger them to display from the Experience Dashboard using the Show Game Notes (N) Viewer Control toggle or by pressing the N keyboard shortcut.
Toggling Show Question Notes (N) enabled
When enabled, the attached Game Note will display on the Participant View of the Experience.
| | |
| --- | --- |
| The Participant View displays the finalized Game Note | The Presentation View displays the finalized Game Note |
More Helpful Articles