You can add Stock Images to your squares by choosing from the extensive stock image library powered by Pixabay. If a participant's card on the Participant View contains the square, then the stock image will be displayed on the square. When the square is called, the image will also display on the Presentation View.
Adding a Stock Image to a Question
To choose a stock image, go to the Experience Dashboard, then the blue Bingo Setup tab, and hover your mouse over the square you'd like to add an image.
Once you hover over the selected square, click on the Add Image button with a camera icon.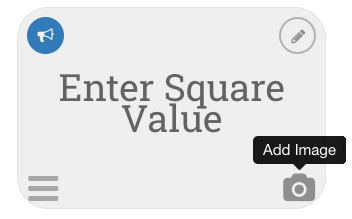 The Add Image feature on a Bingo Square
Choosing the Stock Image
Once you click on Add Stock Image, a blue pop-up box with a search bar and examples of popular stock images will show up. You can either choose one of the popular stock images or you can also search for a particular one. For this example, we are searching for a "food" stock image to add to the bingo square.
Cropping a Stock Image
After adding your desired stock image, you may choose to crop it as well. Click on the green Save Image button to save and upload your chosen stock image after optionally cropping it.
Viewing the Stock Image on the Presentation View & Participant View
If you have the Display Square's Text or Image setting enabled for your Bingo Game, then the uploaded image will always show as the called square on the Presentation View when it is called. However, if your Bingo Game has the
If your participant has the square on their Bingo Card on the Participant View of your Bingo Game, your participants will see the stock image as a square on their devices.
| | |
| --- | --- |
| | |
| Stock image displays on the Presentation View | Stock image displays on the Participant View |
Removing a Square Image
If you wish to adjust or change the stock image or no longer use a square image, simply remove it from the square by clicking on the red Remove button with a trash icon displayed on the square upon hovering your mouse over it.
Remove button on a Bingo Square
Other Helpful Links