The Playback & Timing tab under the Social Wall Settings tab contains settings focused on the timing of your Social Wall posts and which Social Wall Layout you wish to use. You can use these settings to specify how fast your Social Wall cycles through posts and how it displays them.
Countdown Timer
This setting allows you to set a duration that your Social Wall will count down before actually starting. This is useful if you want to indicate to your participants when your Social Wall will actually start so they can join ahead of time. Participants will see a timer counting down on both the overall Projector View and their own Mobile View on their mobile devices. Your Social Wall will automatically start when the timer finishes counting down.
By default, the Countdown Timer is disabled and is set to zero time. To enable the Countdown Timer, simply use the dropdown boxes to select how many minutes and seconds you want for your timer and click the green Save button next to them. When set, the green box will show how long the Countdown Timer is set for.
When the Countdown Timer is enabled, the green Play button on the Control Center will be replaced with a blue Start Countdown button. When you click it, both the Mobile View and the Projector View will display the Countdown Timer and it will begin counting down. Your wall will start when it reaches zero, or you can click the Start button to skip the remaining time on the Countdown Timer and immediately start your Social Wall.
To disable the Countdown Timer simply set the time to zero. Your Social Wall will then start immediately upon pressing the Experience Dashboard's Start button above.
Social Wall Speed
This setting controls how fast your Social Wall cycles through posts. By default, it is set to Normal. If you want the posts to cycle through faster, you can set it to Fast or Very Fast. To make them slower, choose Slow or Very Slow.
The varying playback speeds and its corresponding durations are as follows:
Very Slow:

12 seconds
Slow:

9 seconds
Normal:

6 seconds
Fast: 3 seconds
Very Fast:

1 second
Social Wall Layout
Here's where you set the layout of your Social Wall. You can choose between the 4-Column Social Mosaic, the 2-Column Social Mosaic, the Single Column List View, or the Single Post Spotlight.
To select your layout, simply click the icon of the one you want.
4-Column Social Mosaic
This layout puts the most posts on your wall at any time. It's great for very popular tags and when your crowd is posting a lot to your wall! It's great if the tags you set for your Social Media Channels are full of a lot of both text and image posts. Use this with a faster speed setting to power through as many posts as possible, as quickly as possible!
2-Column Social Mosaic
If the tags you use for the Social Media Channels tend to post more images than text, this layout might be a better fit. It automatically spaces out the images in the posts to keep the layout interesting and dynamic. Your crowd will tend to focus more on the images this way.
Single Column List View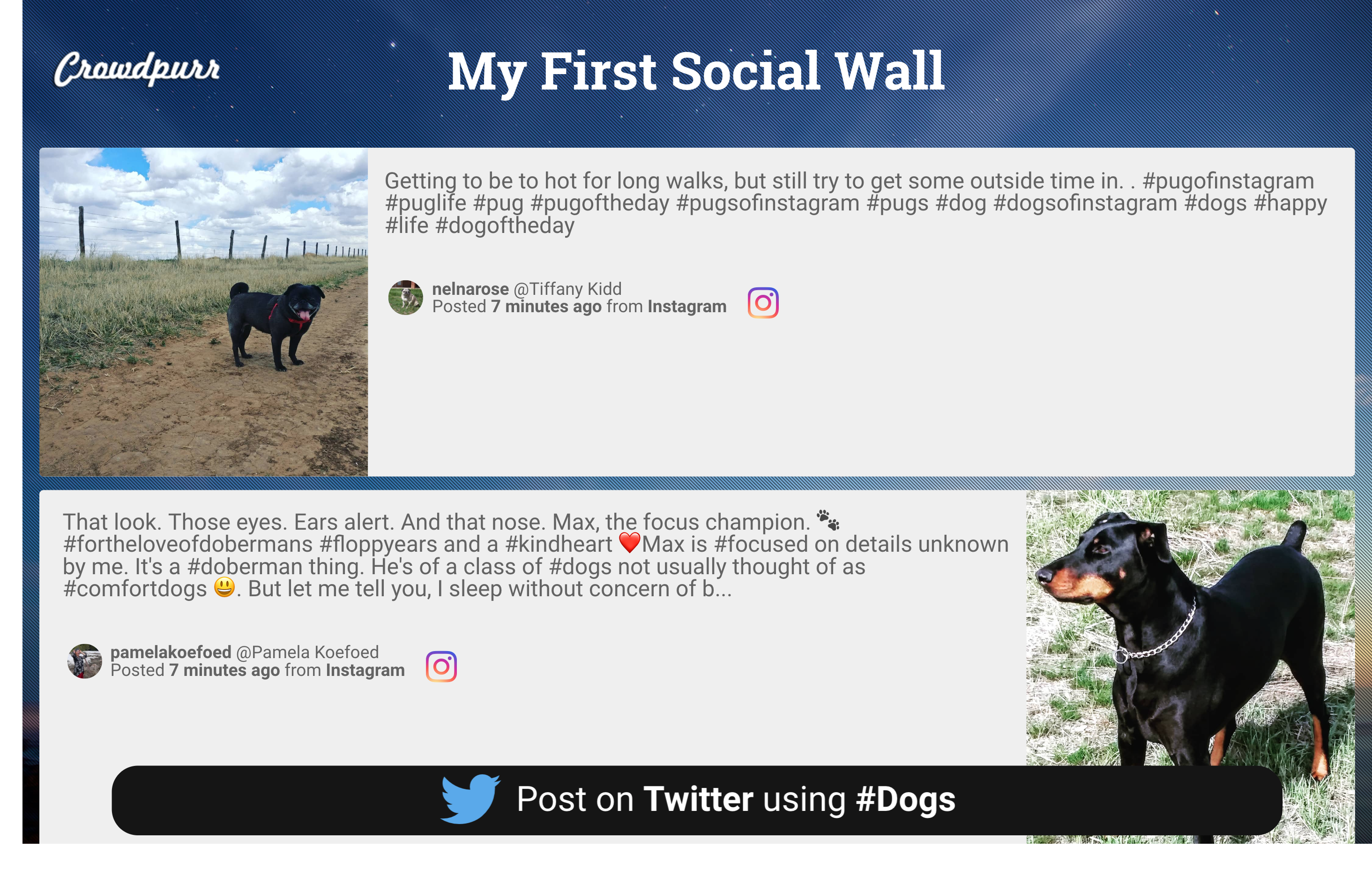 The Single Column List view puts a greater emphasis on shorter text posts on your Social Wall. Images will be placed along the sides of the screen, and the text will be centered and enlarged to make it easier to read. Using this with a slower setting can give each individual post more impact, without totally focusing on it.
Single Post Spotlight
To really give each post the focus, try out the Single Post Spotlight. One single post will be displayed at a time. If you want to approve posts manually, or you don't have that many to cycle through, this might be the best fit for you. Try it with a slower speed to really let each post sink in.
More Information on Social Walls & Settings
Check out these articles for more info on Social Walls & Settings: