The Team Modes tab under the green Settings tab contains settings for configuring the various Team Modes that can be used for your Trivia Game. Check out the article Team Trivia Explained for more information.
Trivia Game Team Modes section on the Experience Dashboard
Team Modes
Use this panel to select which Team Mode to use for your Trivia Game.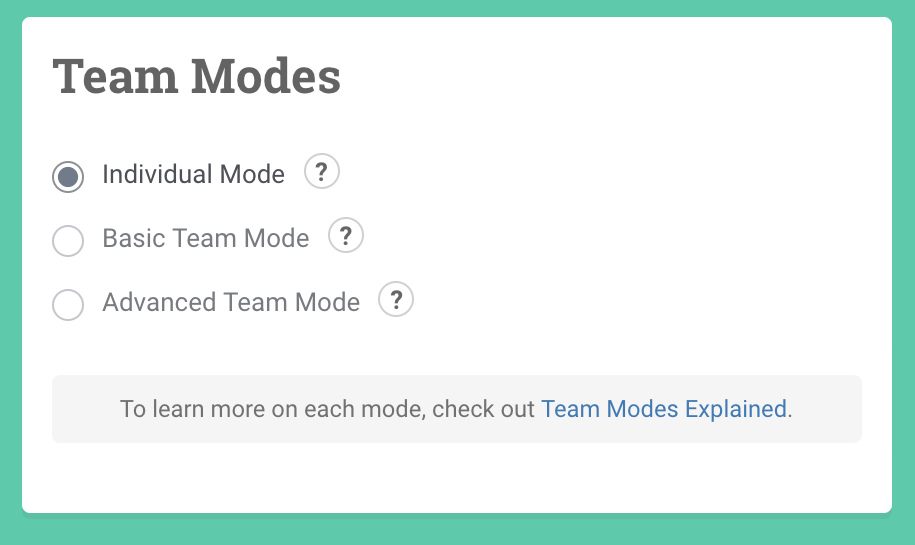 Team Modes
Individual Mode
Individual Mode is enabled by default and allows each player to play on their own individually. Each player will need their own device and enter their Nickname upon joining the Trivia Game. They will be ranked individually on the Rankings Leaderboard.
Basic Team Mode
Basic Team Mode allows local groups of players (e.g. players sitting at the same table) to work together using only one Team Leader mobile device. Players can then confer verbally before answering the question. A single team leader will be responsible for answering the questions on their device. When opening the Participant View, teams will enter a Team Name instead of a Nickname. All teams will then be ranked on the Rankings Leaderboard.
Advanced Team Mode
Advanced Team Mode
allows players to play both individually
and
on a team. You get the best of both worlds!
Upon joining your Trivia Game, players will be asked to enter their Nickname and choose a Team to join. These teams must be set up prior to starting the game. You can set these up in the Edit Advanced Teams section, discussed below.
Each player plays on their own mobile device and their scores are tracked both individually, as a team, and as individuals within a team! As the host, you'll be able to display both an Individual Rankings Leaderboard and a Team Rankings Leaderboard.
Advanced Team Mode is also compatible with Multi-Game Rankings. Team scores are calculated by taking the average of each team member's score. The faster and more accurately each participant answers the more they contribute to their team.
For more information, please check out - Multi-Game Trivia Rankings & Trivia Rounds Explained
Edit Advanced Teams
This panel allows you to configure the teams your players may join when using Advanced Team Mode.
To add a new team, click in the box labeled Add Another Team, type in a team name, and click the blue Add (+) button to add it to the list.
To edit or remove an existing team, click on the green Edit (Pencil) button to its right. Type a new name into the text box and click the green Save (Checkmark) button to save the team. You can cancel by clicking the blue Cancel (X) button. You can remove a team by clicking the red Remove (Trashcan) button after clicking to edit a team.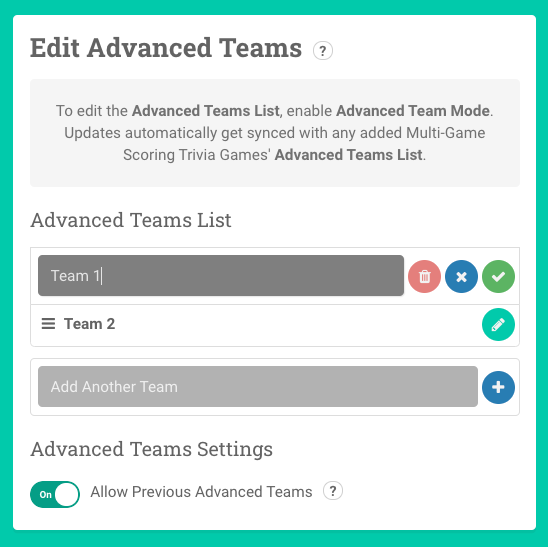 Allow Previous Advanced Teams
By default, the Allow Previous Advanced Teams setting is enabled for newly created Team Trivia Games. When this setting is enabled, if a player has selected an Advanced Team when joining a previous Trivia Game that is not on the current Trivia Game's Advanced Teams List, the player has the option to continue playing under their previous team or choose a new team from the current Advanced Teams List.
Enabling this setting is especially useful for multi-round trivia events where you may only want to manage the Advanced Teams List once for the first Trivia Game and not for every other following round.
When this setting is disabled, participants who have previously selected a team that is not on the current Trivia Game's Advanced Team List will be required to choose a new team from the current list of teams instead.
Disabling this setting is also useful if you would like to force players to choose a new Advanced Team from the current Trivia Game's team list instead. For example, you may want to disable this setting if you've made changes to the Advanced Teams List and would like players to choose from the new set of teams instead.
More Information on Trivia Games & Settings
Check out these articles for more info on Trivia Games & Settings: